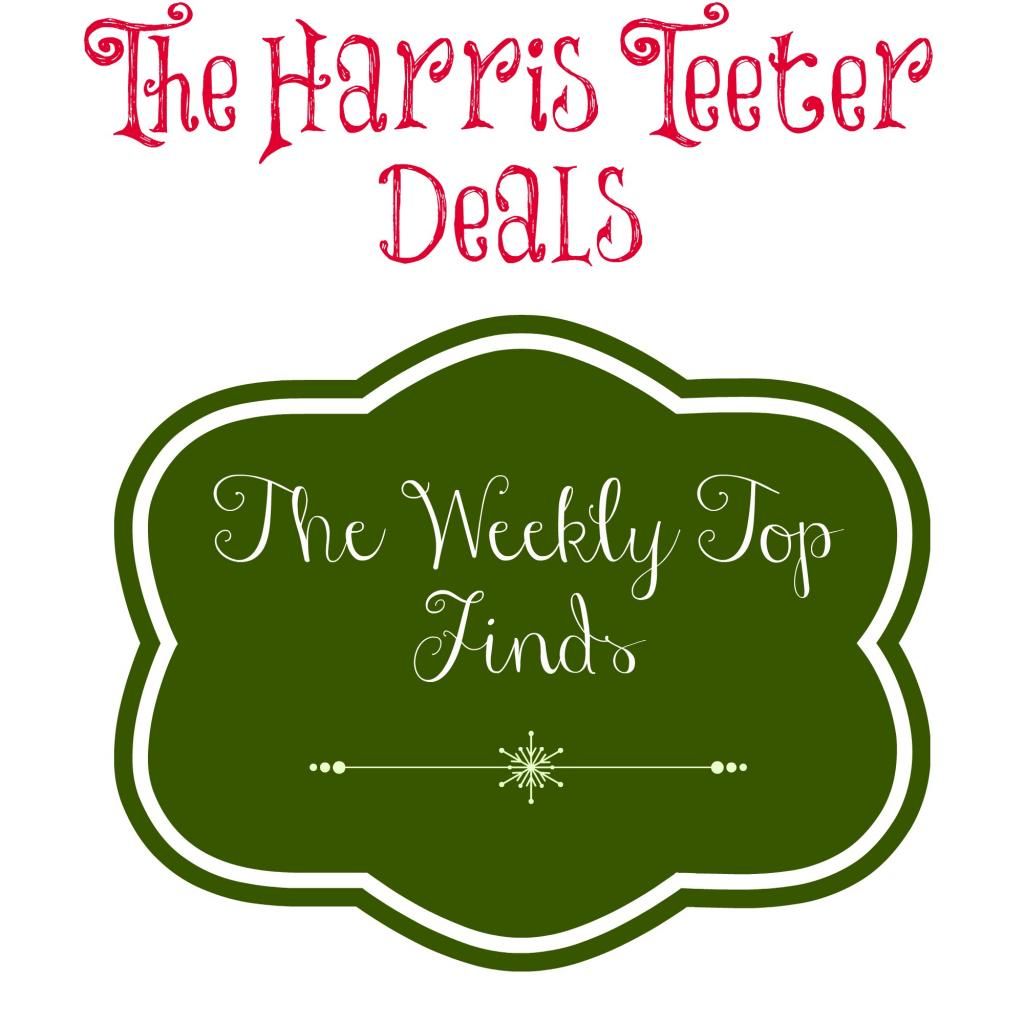 Here's the Ad for this week. Remember Harris Teeter doubles coupons .99 cents and under (20 coupons a day). Any questions just ask
Happy Shopping Everyone! You guys did awesome during Super Doubles! This is a pretty good week tons of buy one, get one free, and buy two get three free deals!
Load your E-coupons
Load your Ibotta Offers
Also.. Join our Facebook group! Share hauls, ask questions, get new deals daily!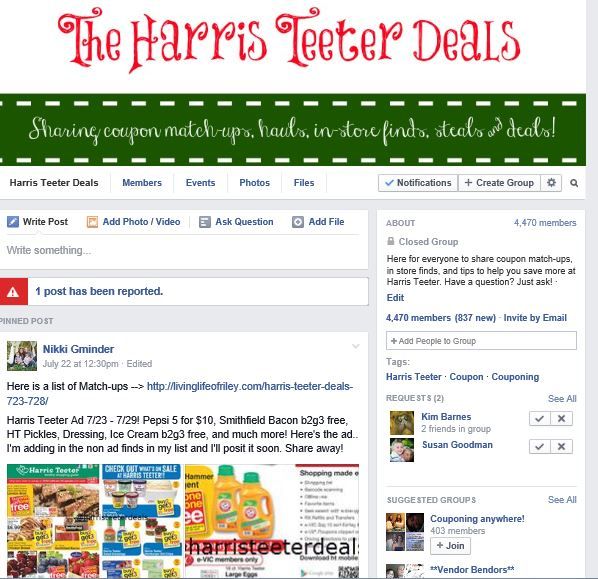 E-VIC Special Limit 2
Simply Orange or Apple Juice 59oz $2.47
Money Makers
FREE
Barilla Pasta Sauce 24oz buy 2 get 3 free ($2.99 reg. price) Limit 10
-$1 off Barilla pasta sauce jar, SS 9/07
-.55/1 Barilla pasta sauce jar, SS 9/07
-.75/1 Barilla pasta sauce jar, SS 9/07
(Use 5, .75/1 coupons)
Final Cost: FREE
Cheerwine 2 Liter $1.00
-.50/1 Cheerwine Product,  SS 10/05
Final Cost: FREE
Crisco Butter Shortening Stick 6.7oz $.99 cents
-.55/1 Crisco or White Lily Flour product, RP 10/05
Final Cost: FREE
Pantene Stylers $4.00
-$2 off Pantene styler or treatment item, excl trial size, SS 9/14
-$2 off Pantene styler or treatment items, excl trial size, PG 9/28
-$2/1 e-coupon ZVR
Final Cost: FREE
Spaghetti0′s Micr0′s 6oz $1.00
-.50/1 printable coupon here
Final Cost: FREE
Margaret Holmes Vegetables 15oz (Select) $1.00
-.50/1 Margaret Holmes Vegetables, SS 10/05
Final Cost: FREE
Under $1.00
McCormick Cinnamon 1oz b1g1 .89 cents (several McCormick bogo)
-$1.75/2 McCormick spices or herbs, RP 10/05
Final Cost: .03 cents for 2
Marie Callender's Dessert Pies 6-9.5oz $2.00
-$1/2 Marie Callender's dessert mini pie or cake, 5.8-10 oz, SS 9/21
-.75/1 Marie Callender's dessert mini pie or cake, 5.8-10 oz, SS 9/21
-.75/3 Marie Callender's single serve frozen meals, 10-19 oz, SS 9/21
-$1/3 e-coupon ZVR
(Buy 3, use 3 .75/1 coupons)
Final Cost: .16 cents each wyb 3
Aqua Ball Water 12oz .99 cents
-.40/1 printable coupon here (zip 90210)
Final Cost: .19 cents
Progresso Soup 18-19oz buy 2 get 3 free ($2.55 reg. price)
-$1/4 printable coupon here or here
-.50/1 printable coupon here (Light Corn Chowder Only)
-.50/2 printable coupon here
-$1/4 e-coupon ZVR
-$1/4 Savingstar Deposit
(buy 5, use two .50/2 coupons, and one .50/1 coupon & ZVR) 
Final Cost:  .22 cents each wyb 5 ($1.10 Total) FREE After Deposit
** Catalina on Progresso Products:
Buy $10-$14.99 worth get $1.50
Spend $15 or more get $2.00
Barilla Pasta 16oz (Penne/Spaghetti) buy 2 get 3 free ($1.69 reg. price) Limit 10
-$1/2 printable coupon here (Play the game)
-$1/3 Barilla blue box pasta, SS 9/07
-.55/2 Barilla blue box pasta, SS 9/07
(Use 2, .55/2 coupons)
Final Cost: .24 cents each wyb 5
Horizon Mac & Cheese 6oz $1.00
-.75/2 printable coupon here (zip 08244)
-.75/2 Horizon Macaroni & Cheese or snacks, RP 9/28
-.75/2 printable coupon here
-.75/2 printable coupon here
Final Cost: .25 cents each wyb 2
Mueller's Elbow Macaroni 8oz .75 cents
-$1/2 Mueller's pasta items, SS 9/21
Final Cost: .25 cents each wyb 2
Kozy Shack Pudding Tub 22oz b1g1 $1.84 each
-.75/1 Kozy Shack pudding, SS 9/21
-$1/2 Kozy Shack pudding, SS 9/21
Final Cost: .34 cents
Tasty Bite Rice 8.8oz b1g1 $1.34 each 
-$2/3 printable coupon here
-$1/1 printable coupon here
Final Cost: .34 cents
Lipton Tea 24ct b1g1 $1.39 each
-$1/1 printable coupon here
Final Cost: .39 cents
Martha White Muffin Mix 7oz b1g1 .64 cents each
-$1/5 printable coupon here
Final Cost: .44 cents each wyb 5
Kellogg's Mini Wheats 18oz b1g1 $1.99 each
-.75/1 printable coupon here (500 points)
-$1/3 Kellogg's cereals, 8.7 oz +, RP 10/05
-$1/3 printable coupon here
Final Cost: .49 cents
Ellio's Pizza 24oz b1g1 $1.99 each
-.75/1 Ellio's pizza, SS 9/07
Final Cost: .49 cents
Domino Brown Sugar 1lb .99 cents
-.50/2 Domino Brown or Confectioners Sugar, RP 9/07
Final Cost: .49 cents each wyb 2
Food Should Taste Good Tortilla Chips $2.00
-.75/1 printable coupon here
-.75/1 printable coupon here
Final Cost: .50 cents 
Welch's Fruit Snacks 9oz $1.50
-.50/1 printable coupon here
-$1/2 Welch's Fruit Snacks, Fruit 'n Yogurt snacks or PB&J snacks, 8-66 ct. box, SS 10/19
Final Cost: .50 cents
El Monterey Breakfast Burritos $1.00
-$1/2 printable coupon here
Final Cost: .50 cents each wyb 2
Mueller Pasta Select 16oz $1.00
-$1/2 Mueller's pasta items, SS 9/21
Final Cost: .50 cents each wyb 2
Healthy Request Condensed Soup $1.00
-$1/2 printable coupon here (use 2)
-$1/3 printable coupon here
-$1/3 e-coupon ZVR
Final cost: .50 cents each wyb 2 
**Catalina:
Get .75 cents wyb 3
Get $1.00 wyb 4
Get $1.25 wyb 5 or more
Zone Perfect Bar $1.00
-.50/2 printable coupon here
Final Cost: .50 cents each wyb 2
Luden's Cough Drops 25-30ct $1.00
-$1/2 printable coupon here
Final Cost: .50 cents each wyb 2
Land O Lakes Spreadable Butter 8oz $2.00
-.50/1 printable coupon here
-.70/1 Land O Lakes butter spread tub, SS 8/10
-$1/2 Land O Lakes butter spread tub, SS 8/10
Final Cost: .60 cents 
Campbell's Condensed Soup $1.00
-.40/2 Campbell's Condensed soups, excl chicken noodle, tomato and cream of mushroom, SS 10/12
-$1/5 Campbell's condensed soup, excl chicken noodle, tomato and cream of mushroom, SS 9/07
-.40/3 printable coupon here
-.40/3 Campbell's condensed soup, excl chicken noodle, tomato and cream of mushroom, SS 9/07
-.40/4 Campbell's condensed chicken noodle, tomato or cream of mushroom soups, SS 9/07
Final Cost: .60 cents each wyb 2
Texas Pete Cha! 18oz b1g1 $1.64 each
-$1 off Cha! by Texas Pete, RP 10/05
-$1 off Texas Pete Cha!, SS 8/17
Final Cost: .64 cents
Dannon Dessert or Pudding 5.3oz $1.67
-.50/1 printable coupon
Final Cost: .67 cents
Spaghetti0's Can Pasta 15oz $1.00
-.40/3 printable coupon here
-.40/3 Campbell's SpaghettiO's pasta, SS 9/07
Final Cost: .73 cent each wyb 3
Hormel Rev Wraps 3oz $2.00
-$1/2 printable coupon here
-.50/1 printable coupon here
-$1/2 Hormel Rev Wraps or AM Wraps e-coupon ZVR 
-$1.50/3 e-coupon ZVR  
(buy four Wraps use two $1/2 printables, and both e-coupons)
Final Cost: .87 cents each wyb 4
Pepperidge Farm Texas Toast 6ct b1g1 $1.89 each
-.50/1 printable coupon here
-$1.25/2 Pepperidge Farm Frozen Bread or Roll, exp 11/02, SS 9/07
-.50/1 Pepperidge Farm Frozen Bread or Roll, exp 11/02, SS 9/07
Final Cost: .89 cents
Thomas Bagel Thins b1g1 $1.94 each
-$1/1 Thomas Bagels, SS 9/28
-$1/1 Thomas Bagels, SS 8/24
-$1/2 printable coupon here (zip 10101)
Final Cost: .94 cents
Starbucks Iced Coffee 11oz $1.99
-$1/1 printable coupon here
Final Cost: .99 cents
Crystal Light On The Go Drink Mix $1.99
-$1/1 printable coupon here
Final Cost: .99 cents
Truvia Natural Sweetener 40ct $2.99
-$2/1 printable coupon here
-$1 off Truvia Natural Sweetener, RP 10/05
Final Cost: .99 cents
Bayer Aspirin 32ct $1.99
-$1/1 printable coupon here
-$1 off Bayer aspirin, 20 ct.+, RP 10/12
-$1 off Bayer aspirin, 20 ct.+, RP 9/14
Final Cost: .99 cents
Fresh Express Spinach 5oz b1g1 $1.99 each
-$2/2 printable coupon here (enter 2 codes)
-$1/2 printable coupon here (sign up)
Final Cost: .99 cents each wyb 2
Butterball Turkey Bacon 12oz $2.50
-.75/1 printable coupon here
Final Cost: $1.00
Kellogg's Special K Moments Snack Bites 4.5oz $2.50
-.50/1 printable coupon here
-.50/1 e-coupon ZVR
Final Cost: $1.00
Dole Fruit Bowls 4pk $2.00
-.50/1 printable coupon here
-.50/1 printable coupon here
-.55/2 Dole fruit bowls all natural fruit in 100% juice, gels, fruit parfaits or fruit crisps, SS 8/03
Final Cost: $1.00
Butterball Turkey Dinner Sausage $2.50
-.75/1 printable coupon here
Final Cost: $1.00
Colgate Total Toothpaste 6oz $3.00
-$1/1 printable coupon here
-$1/1 e-coupon ZVR
Final Cost: $1.00
New York Texas Toast 8ct $2.50
-.75/1 printable coupon here
Final Cost: $1.00
Eggo Waffle 10ct $2.50
-$1.50/1 printable coupon here (1,000 points)
-$.75/1 printable coupon here (500 points)
Final Cost: $1.00
Dean's Onion Dip 16oz $1.50
-$1/2 printable coupon here
Final Cost: $1.00 each wyb 2
Under $2.00
Starbucks Via Iced Coffee 5ct $4.17
 -$1.50/1 printable coupon here
-$1.50/1 e-coupon ZVR
Final Cost: $1.17
Pepperidge Farm Wide Pan Bread 24oz b1g1 $2.14 each
-.40/1 Pepperidge Farm sandwich bread or buns, SS 9/14
Final Cost: $1.34
Sargento Sliced Cheese $3.00
-.55/1 printable coupon here
-.55/1 e-coupon ZVR
Final Cost: $1.35
Maxwell House Coffee 11.5oz b1g1 $2.39 each
-$1/1 printable coupon here
-$1/2 printable coupon here
Final Cost: $1.39 each
Arnold Sandwich Thins b1g1 $1.94 each
$1/2 Arnold Sandwich Thins Rolls, SS 10/19
$1/2 Arnold Sandwich Thins Rolls, SS 10/19
Final Cost: $1.44 each wyb 2
Cooked Perfect Meatballs 14oz $2.47
$1 off Cooked Perfect meatballs, SS 9/14
Final Cost: $1.47 cents
Kraft Mayo 30oz $2.99
-.75/1 printable coupon here
Final Cost: $1.49
Old Orchard 100% Juice $2.49
-.50/1 printable coupon here
-$1/2 printable coupon here
Final Cost: $1.49
Silk Milk 64oz $3.00
-.75/1 printable coupon here
-$1/1 printable coupon here
Final Cost: $1.50
Butterball Fully Cooked Turkey Sausage Links/Patties $2.50
-$1/1 printable coupon here
Final Cost: $1.50
Wholly Guacamole 8oz $2.50
-$1/1 printable coupon here
-$1/1 printable coupon here
Final Cost: $1.50
Reynold's Foil 75sq ft. $3.00
-.75/1 printable coupon here
Final Cost: $1.50
Turkey Hill Iced Tea 57.6oz $2.00
-$1/2 printable coupon here
Final Cost: $1.50 each wyb 2
Pepsi Brand 12 pack Sodas buy 2 get 3 free ($6.49 reg. price)
-$1 off Sierra Mist 12-pk 12 oz, SS 10/12
(Buy 5, use 5 coupons)
Final Cost: $1.59 each wyb 5
Horizon Snack Crackers & Grahams $2.50
-.75/2 Horizon Macaroni & Cheese or snacks, RP 9/28
-.75/2 printable coupon here
-.75/2 printable coupon here
Final Cost: $1.75 each wyb 2
Clorox Bleach Concentrated (Fresh Meadow) 121oz b1f1 $2.34 each
-.25/1 printable coupon here
-$1/2 Clorox liquid bleach, SS 9/28
Final Cost: $1.84 each wyb 2
Hofmann German Franks or Snappy Grillers b1g1 $2.99 each
-$1/1 printable coupon here ( zip 22222)
Final Cost: $1.99
Purina Cat Chow 3.15lb b1g1 $2.99 each
-$1 off Purina Cat Chow bag, 3.15 lb +, RP 8/17
Final Cost: $1.99
Garnier Shampoo/Conditioner $2.99
-$1 off Garnier shampoo, conditioner or treatment, excl trial size, RP 10/05
-$1/1 printable coupon here
Final Cost: $1.99
Axe Deodorant $4.99
-$2 off Axe Daily Fragrance or deodorant stick, excl trial size, RP 9/28
-$1/1 printable coupon here
-$1/1 e-coupon ZVR
Final Cost: $1.99
Tide Pods 16ct $4.99
-$2 off Tide PODS, Gain Flings, Downy Unstopables, Bounce Bursts or Gain Fireworks, excl Tide PODS, 5 ct., Gain Flings, 5 ct. and trial size, RP 10/12
-$1/1 e-coupon ZVR
Final Cost: $1.99
Kleenex Hand Towels $2.99
-.50/1 Kleenex hand towels, SS 9/14
-.50/1 printable coupon here
Final Cost: $1.99
Other Matchups
Bounty Paper Napkins 200ct $2.50
-.25/1 printable coupon here
Final Cost: $2.00
Coffee-Mate Creamer 32oz $2.50
-$1/2 printable coupon here
Final Cost: $2.00 each wyb 2
Campbell's Slow Cooker Sauces 13oz $2.50
-$1/2 printable coupon here
-$1/2 Campbell's Slow Cooker, Skillet or New Oven Sauces, SS 10/05
Final Cost: $2.00 each wyb 2
Lunchable with Smoothie 8oz $2.67
-$1/2 printable coupon here
Final Cost: $2.17 each wyb 2
Johnsonville Sausage Links or Patties $3.33
-$1/1 printable coupon here
Final Cost: $2.33
Cheerwine 12pk b1g1 $3.34 each
-.50/1 Cheerwine Product,  SS 10/05
Final Cost: $2.34
Arm & Hammer Liquid Detergent 35 load b1g1 $3.49 each
-$2/2 Arm & Hammer liquid, powder or single dose laundry detergent, SS 9/14 (exp 10/25)
Final Cost: $2.49 each wyb 2
Ziploc Bags 15-30ct $3.00
-$1/2 printable coupon here
-$1/2 Ziploc bags, SS 9/21
Final Cost: $2.50 each wyb 2
Ziploc Containers $3.00
-$1/2 printable coupon here
$1/2 Ziploc containers, SS 10/12
Final Cost: $2.50 each wyb 2
Tidy Scoop Cat Litter 14lb b1g1 $3.84 each
-$1 off Purina Tidy Cats cat litter, RP 7/27 (exp 10/27)
Final Cost: $2.84
BIC Disposable Razors 3-4ct $4.99
-$2 off BIC disposable razor, excl trial size, SS 10/19
-$2/1 printable coupon here
Final Cost: $2.99
Seattle's Best Coffee 12oz $4.99
-$2/1 printable coupon here
-$2/1 printable coupon here
-$1.50 off Seattle's Best ground or K-cup coffee, SS 8/10
Final Cost: $2.99
Palermo's Pizza $4.00
-$1/1 printable coupon here
Final Cost: $3.00
Farm Rich Appetizers 18-20oz $5.00
-.75/1 printable coupon here (zip 77477)
Final Cost: $3.50
Green Moutain K-Cups b1g1 $4.99 each
-$1/1 printable coupon here (Hazelnut Iced variety)
Final Cost: $3.99 each
Perdue Simply Smart Chicken Nuggets 22-24oz $5.99
-$2/1 printable coupon here (zip 77477)
Final Cost: $3.99
Hillshire Farm Craft Sausage $4.99
-$1/1 printable coupon here
Final Cost: $3.99
Pampers Baby Dry Diapers $8.99
-$2/1 printable coupon here (zip 77477)
-$1.50/1 e-coupon ZVR
Final Cost: $5.49
Pampers Cruiser Diapers $8.99
-$2/1 printable coupon here (zip 77477)
-$1.50/1 e-coupon ZVR
Final Cost: $5.49
Pampers Easy Ups $8.99
-$2/1 printable coupon here
-$1.50/1 e-coupon ZVR
Final Cost: $5.49
Hefty Tall Kitchen Bags $6.99
-$1.25 off Hefty tall kitchen trash bags, RP 9/28
-$1.25/1 printable coupon here
Final Cost: $5.74
Luvs Diapers $7.99
-$1/1 printable coupon here
-$1 off Luvs diapers, excl trial size, RP 10/12
-.50/1 e-coupon ZVR
Final Cost: $6.49
Angel Soft Bath Tissue 16 roll $7.99
-.55/1 printable coupon here
Final Cost: $6.89
Purina Dry Dog food 16.5lb b1g1 $8.99 
-$1 off Purina Dog Chow or Puppy Chow, 4 lb+, RP 7/27 (exp 10/27)
Final Cost: $7.99
Duracell Batteries 12-16ct Select $9.99
-.50/1 Duracell Coppertop, Quantum, Ultra photo lithium, specialty batteries, rechargeable batteries, charger or 6pk+ hearing aid batteries, excl trial size, PG 9/28
-.50/1 Duracell Coppertop, Quantum, Ultra Photo Lithium or Specialty batteries, excl trial size, PG 10/26
-.50/1 printable coupon here
-.50/1 e-coupon ZVR
Final Cost: $8.49
Bounty Paper Towels 8ct $9.99
-.25/1 printable coupon here
-.25/1 e-coupon ZVR
Final Cost: $9.24
Buy two get three FREE (no known coupon matchups)
Harris Teeter Traders Ice cream 16oz ($3.99 reg. price)
Final Cost: $1.59 each wyb 5
Harris Teeter Ice Cream 48oz ($5.29 reg. price)
Final Cost: $2.11 each wyb 5
Harris Teeter Fisherman's Market Shrimp 32oz ($29.98 reg price)
Final Cost: $11.99 each wyb 5
Buy one get one FREE (no known coupon matchups)
Swanson Broth Can 14.5 b1g1 .62 cents each
KC Masterpiece Barbecue Sauce 18oz b1g1 $1.19 each
Pillsbury Brownie Mix 18.4oz b1g1 $1.19 each
Bailey's Coffee Creamer 16oz b1g1 $1.24 each
HT Yourhome Freezer Bags 10ct b1g1 $1.24 each
Marshall's Buttermilk Biscuits 8oz b1g1 $1.25 each
Dei Fratelli Tomatoes 28oz b1g1 $1.34 each
Hanover Beans 40.5oz b1g1 $1.39 each
Harris Teeter Shredded Cheese 6-8oz b1g1 $1.42 each
Harris Teeter Dog Biscuits 26oz b1g1 $1.49 each
Harris Teeter Fresh Market Naan Bread b1g1 $1.49 each
Harris Teeter English Muffins 6ct b1g1 $1.49 each
Harris Teeter Twist Top Cookies 18oz b1g1 $1.50 each
Cole's Garlic Bread 16oz b1g1 $1.57 each
HT Organics Ice Cream 16oz b1g1 $1.75 each
Harris Teeter Cheese Sticks b1g1 $1.83 each
Quaker Instant Grits 12oz b1g1 $1.49 each
Quaker Cap'n Crunch Cereal 14oz b1g1 $1.49 each
Sensible Portions Veggie Chips/Straws b1g1 $1.59 each
Harris Teeter Fresh Market Hummus 10oz b1g1 $1.99 each
Hungry Man Frozen Dinners b1g1 $1.99 each
Harris Teeter Dessert Cups b1g1 $1.99 each
Harris Teeter Greek Yogurt 4pk b1g1 $1.99 each
Lay's Potato Chips b1g1 $2.14 each
Pepperidge Farm 3 Layer Cakes 19.6oz b1g1 $2.34 each
Maxwell House Coffee 11.5oz b1g1 $2.39 each
Pepsi 6pk Bottles b1g1 $2.39 each
Cadbury Ice Cream Bar 6pk b1g1 $2.44 each
Buitoni Refridgerated Pasta 9oz b1g1 $2.49 each
New York Bagel Crisps b1g1 $2.49 each
DePalo Cinnamon Rolls b1g1 $2.99 each
Harris Teeter AA Batteries 8ct b1g1 $3.34 each
Other Sales (no known coupon matchups)
HT Canned Veggies (Corn, Green Beans, Peas) .60 cents
HT Mandarin Oranges Can 11oz .90 cents
HT Milk 32oz $1.00
HT Olives 2.8oz $1.00
HT Plastic Forks, Knives, Spoons, 24ct $1.00
Tropicana Individuals 12oz $1.00
Dannon Greek Yogurt Cup $1.00
Silk Creamer 16oz $1.00
HT Soy Milk 64oz $1.25
Pepsi 2 Liter $1.50
Hunt's Ketchups 20oz $1.50
HT Brownie Mix 19.8oz $1.50
Kraft Deluxe Mac & Cheese 10-14oz $1.50
HT Cream Cheese Square 8oz $1.67
Little Debbie Cakes 10ct $1.67
HT yourhome Garbage Bags 10-26ct $1.78
HT Cereal bars 8ct $1.97
HT Toothbrushes 4pk $1.99
Quaker Old Fashioned Oats 18oz $1.99
Sun Maid Raisins 6oz $2.00
Kraft Singles 16ct $2.00
HT Weav-Its Crackers 10oz $2.00
HT Liquid Eggs 16oz $2.00
HT yourhome Fabric Sheets 120ct $2.50
Bagelfuls 10oz $2.50
PopChips 3.5oz $2.50
Core Power Protein Drink Individual $2.50
Pepsi Mini 8pk $2.99
Horizon Cottage Cheese 16oz $3.49
Horizon Sour Cream 16oz $3.00
HT Potato Skins Appetizers $3.00
Snyder's Gluten Free Pretzels 8oz $3.00
Horizon Egg Nog 32oz $3.49
Bob Evans Sides $3.50 each
Deer Park 12pk $3.99
Velveeta Cheese 32oz $3.99
Dasani Sparkling Water 12pk $3.99
Capri Sun 30ct $4.29
Vitamin Water 8pk $4.50
Cold-Eze Lozenges 18ct $4.99
HT Organic Frozen Pizza $4.99
Starbucks Frappuccino 4pk $5.99
Stouffer's Frozen Meals 38-40oz $6.99
HT Frozen Blueberries 32oz $7.99
Delsym Cough 3oz $8.99
Jimmy Dean D-Light Flatbreads $5.99
Lipton Tea 12pk $5.99
Pumpkin Carving Kits $5.99
Meat
Crab Cakes 1ct $2.50 each
Oscar Mayer Deli Fresh Lunchmeat 7-9oz $3.00
Smithfield Baby Back Ribs b1g1 $3.14/lb each
Oscar Mayer Hot Gods 16oz $3.29 each
Whole Seasoned Chicken $3.49/lb
Land O'Frost Premium Lunchmeat 1lb  $3.99 each
Oscar Mayer Carving Board Lunch Meat $4.39
HT Reserve Angus Beef Boneless Chuck Roast, Bottom Round Roast $3.99/lb
USDA Choice HT Reserve Angus Beef Lean Stew Meat $4.97/lb
HT Reserve Angus Beef Lean Stew Meat $4.97/lb
Lamb Chops $4.97/lb
Kunzier Pepper Sliced Bacon $4.99
Maine Mahogany Clams 2lb $5.49
HT Hamburger Patties $5.99/lb
Johnsonville Italian Meatballs 24oz $6.99
Smart Chicken breast $7.99/lb
HT Rancher Beef Porterhouse or T-Bones Steak $8.97/lb
Boneless Rainbow Trout Filets $8.99/lb
North Carolina Shrimp $9.99/lb
Monkfish Tails $9.99/lb
Premio Sausage 2.5lb $10.00
Alaskan Sockeye Salmon $10.99/lb
King Crab Legs $14.99/lb
Sea Scallops $16.99/lb
Produce
Cabbage .39/lb
Red Onions $1.49/lb
Broccoli Crowns $1.49/lb
Red Delicious Apples $1.59/lb
Celery $1.69 each
Grape Tomatoes 1 pint b1g1 $1.74 each
Jumbo Tangerines $2.00 each
Hot House English Cucumbers $2.00 each
Cremini Mushrooms $2.00 each
Strawberries 16oz b1g1 $2.49 each
Yukon Gold Potatoes 5lb b1g1 $2.49 each
Broccolini Bunches $2.50 each
Honey Crisp Apples $2.79/lb 
Pineapple $2.99 each
Yellow, Red, Orange Peppers $2.99 each
Farmers Market Green Beans 12oz $3.00
Russet Potatoes 5lb $3.49 each
White Potatoes 5lb $3.49 each
Blackberries 6oz $3.50
Red Raspberries 6oz $3.50